One of the highlights of the Creative CX calendar – aside from delivering amazing results for our clients of course 😀 – is the Summer Party.
As we've embraced a hybrid working model, we've recognized the increasing importance of creating opportunities for us to come together socially. With so many of the team rarely in the London office, it's essential to establish reasons for us to gather beyond task-focused discussions and to get to know each other better as human beings. And we managed to get a good turn out this year too, with most of the company able to attend.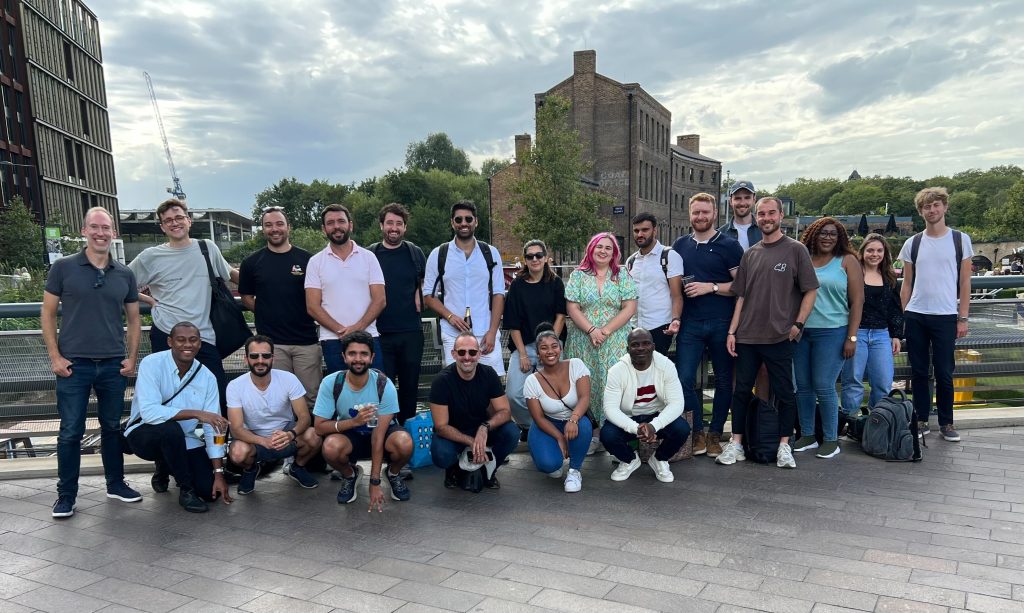 Over the past two years, the Creative CX Summer Party has taken the form of a picnic accompanied by 'school sports day' activities such as sack races, egg & spoon races, and rounders (if you haven't seen it, watch this great video from last year).
This year, the newly formed Social Committee took charge and organised a great day for all of us.
Our meeting point was Granary Square, where we embarked on a canal boat journey along the Regent's Canal. For those who haven't explored this area, it's a great way to experience a different side of North London. A few years back I used to regularly jog, so I was familiar with its charm, but seeing it from the water offered a unique perspective.
Onboard, the Social Committee had prepared a delightful spread of food and drinks, accompanied by entertaining Taskmaster-inspired activities. As a fan of the comedy series, I eagerly embraced the role of the Task Master, passing judgement on the teams' creative attempts. Witnessing everyone collaborating in teams to conquer these whimsical challenges was great.  Lots of laughs and a bit more pressure on some of the judging tasks than I had anticipated!
After an enchanting canal tour, we adjourned to a local pub for further refreshments, additional TaskMaster challenges, and an entertaining 'Slack quotes' quiz.
This day together was not just about fun and laughter—it reinforced the importance of coming together as a team. It's in these moments that we strengthen our bonds, enhance our collaborative spirit, and foster a sense of camaraderie that transcends the confines of our work-related responsibilities. These gatherings remind us that beyond delivering remarkable results, our unity and cohesion are equally crucial to our shared success.